Save the Sloth
In cooperation with  the Swedish professional and vegan haircare company Maria Nila, The Perfect World Foundation is supporting the work to spread knowledge about the sloths' situation and about conservation efforts in Costa Rica.
Being the slowest animal on the earth comes with challenges, and as humans tend to interfere more and more with the sloth's natural territory the slow life becomes even more challenging.  The health of the sloth population depends on the health of the tropical rainforest. And as deforestation continues, the sloths are losing both their homes and their food. This has led them to descend from the treetops where they usually reside, making them an easy prey for other species, car accidents and poaching. Sloths are also, at an alarming rate, being taken and sold for photos and interactions with tourists. These types of activities cause the sloths a lot of stress and anxiety and lead to a premature death. Most sloths held captive die within three to six months.
The number of sloths is rapidly dropping in Costa Rica. To resolve this, the protection and restoration of habitat is needed.
Habitat loss – the number one threat
Sloths live most of their lives up in the trees. They rely on the rainforest to survive and need a dense forest to be able to move around. To restore and protect sloth habitats is critical for them to thrive.
Together with The Perfect World Foundation you can help plant trees to restore wildlife habitats with our global tree planting initiative Attenborough Forest. A project that also works to protect natural forests.
In addition to reducing CO2 in the atmosphere – which benefits all life on earth – trees create habitats, fresh water, and food for wildlife. Trees also benefit biodiversity and the ecosystems in which wild animals live, giving them (and the entire ecosystem) better conditions to thrive. With our campaign "Plant a tree for me" you can plant trees in Attenborough Forest and get a Sloth diploma.
The Friendly Year of 2022 – Save the Sloth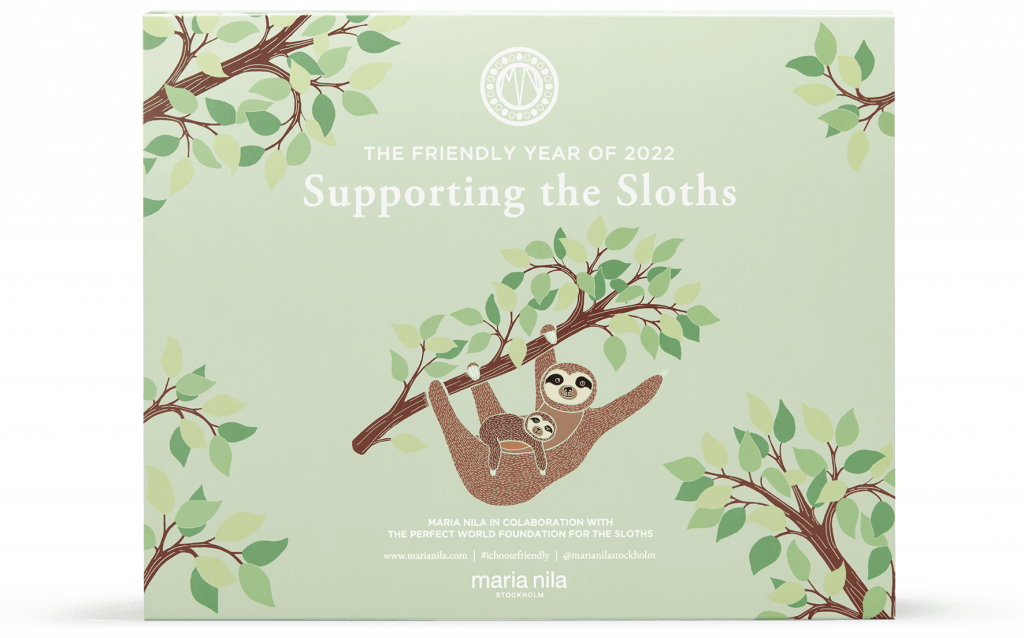 Swedish professional and vegan haircare company Maria Nila does not believe animals should be part of human vanity, and that it is important that we all work towards a friendlier world. Every year on November 1st, Maria Nila together with The Perfect world Foundation start the Friendly Year, Maria Nilas year-long charity program. The Friendly Year consists of a larger charity campaign during World Vegan Day as well as fundraisers throughout the year, that then result in final donation. For 2022, the Friendly Year aims to support our tree-dwelling friends, the sloths, by supporting The Sloth Institute of Costa Rica. Read more about Maria Nila's Friendly Year of 2022 >